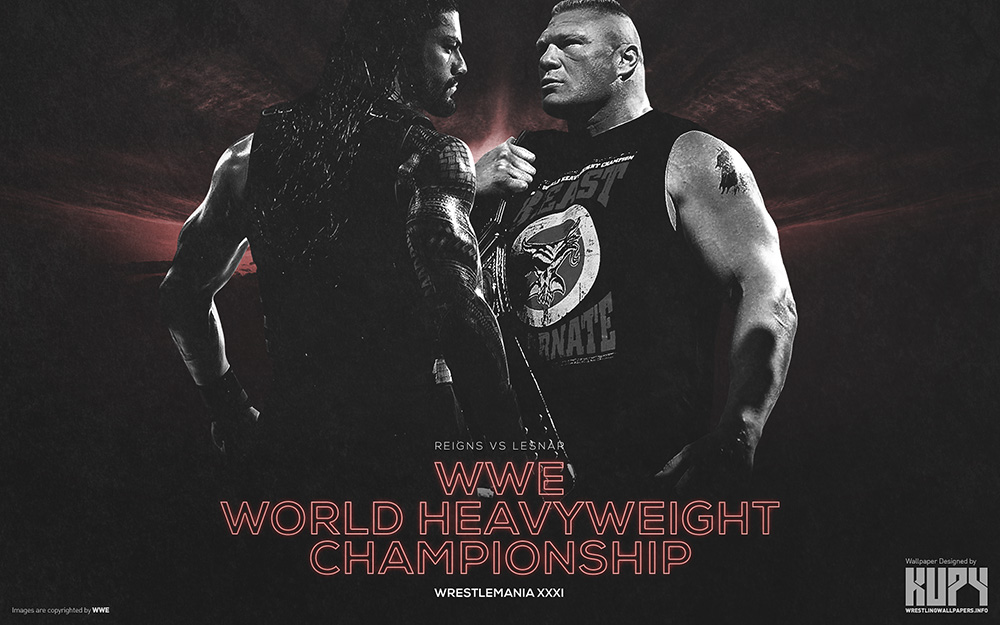 Lesnar vs. Reigns WWE World Heavyweight Championship WrestleMania 31 wallpaper
1920×1200 | 1920×1080 | 1680×1050 | 1600×900 | 1440×900 | 1280×1024 | 1280×800 | 1024×768 / iPad / Tablet | PS Vita wallpaper | iPhone 6 Plus wallpaper | iPhone 6 wallpaper | iPhone 5s wallpaper | iPhone 5 wallpaper | Facebook Timeline Cover
Everyone knows by now that Brock Lesnar has signed a new contract with WWE, thus ruling out any form of UFC/MMA return. Before that though, it was almost a given that Brock Lesnar will drop the WWEWHC to Roman Reigns because of his contract uncertainty. Now, it's 50-50. Will The Beast retain at WrestleMania 31? Or will the hungry challenger take the coveted title off him?
Despite the shower of boos these past few months, Reigns has maintained composure during the tough times. If he can bring out his A game and make a WrestleMania moment against Brock Lesnar, it's possible that he'll win some fans over. He needs to look legit, someone that can really stop The Beast from streaking and whooping his ass. It's make or break for you Roman. This is it. If you screw this up then it'll be all over for you. This is your one and only chance. I'm a believer, not 100% though, but I totally believe Roman can become the top dog in WWE in due time. And he should do it at Wrestlemania 31.
This is the final Road to WrestleMania 31 WWE wallpaper. Thanks everyone for liking and appreciating this year's WrestleMania wallpaper set! 🙂
Like Kupy Wrestling Wallpapers on Facebook!
Disclaimer: All images belong to and are copyrighted to/by WWE. There is no copyright infringement intended.
Posted on March 29th, 2015 at 5:01 pm by Mr. Kupy
Posted in
All Designs
,
Brock Lesnar
,
I) Wrestling Wallpapers
,
Roman Reigns
,
WrestleMania 31
Tags:
Brock Lesnar
,
I) Wrestling Wallpapers
,
Roman Reigns
,
WrestleMania
,
WrestleMania 31
,
wrestling
,
WWE
,
WWE Wallpapers