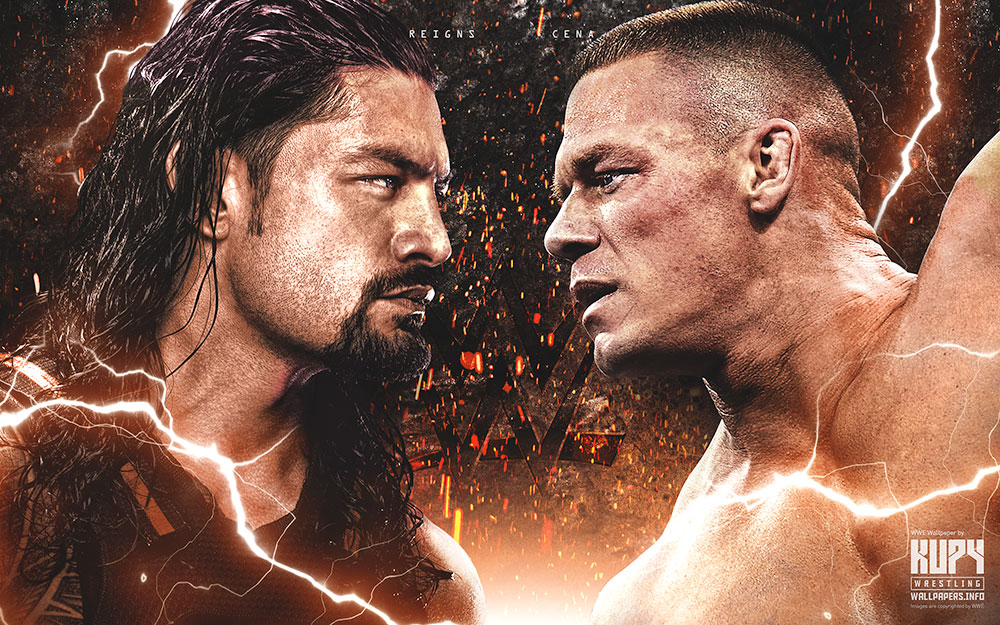 Roman Reigns vs. John Cena No Mercy wallpaper
1920×1200 | 1920×1080 | 1680×1050 | 1600×900 | 1440×900 | 1366×768 | 1280×800 | 1024×768 / iPad / Tablet | iOs / Android mobile wallpaper | Facebook Timeline Cover
The megamatch that was originally rumored to be part of WrestleMania 34 will instead come early at WWE No Mercy. We're not sure why but there must be some good reason behind it. Besides, WWE has no problems doing multiple rematches so I won't be surprised if this match happens again next year at WrestleMania, with the Universal Championship on the line. Right now, it's about being the man in the WWE.
At this point, there's no hope to turn John Cena heel anymore. With Reigns though, it is certainly possible. Just pull the trigger WWE. He has been bastardized enough on the mic by Cena it's not even fair. If I'm Reigns, I'd just shut up and kick John's ass all over the arena. Let's just get it done.
After weeks of word war, with Cena owning Reigns all the time, there's a huge chance Roman Reigns wins round 1 at No Mercy. This won't be a one-time thing for sure. The fans are now excited to see the match and you could just imagine the crowd reaction during the match. Rowdy might be an understatement!
Follow Kupy Wrestling Wallpapers on Instagram | Like Kupy Wrestling Wallpapers on Facebook
Disclaimer: Image(s) belong to and are copyrighted to/by WWE. There is no copyright infringement intended.
Posted on September 12th, 2017 at 6:12 pm by Mr. Kupy
Posted in
All Designs
,
I) Wrestling Wallpapers
,
John Cena
,
Roman Reigns
,
WWE No Mercy
Tags:
HD wallpaper
,
I) Wrestling Wallpapers
,
John Cena
,
mobile wallpaper
,
Roman Reigns
,
The Shield
,
wrestling
,
WWE
,
WWE No Mercy
,
WWE Wallpapers