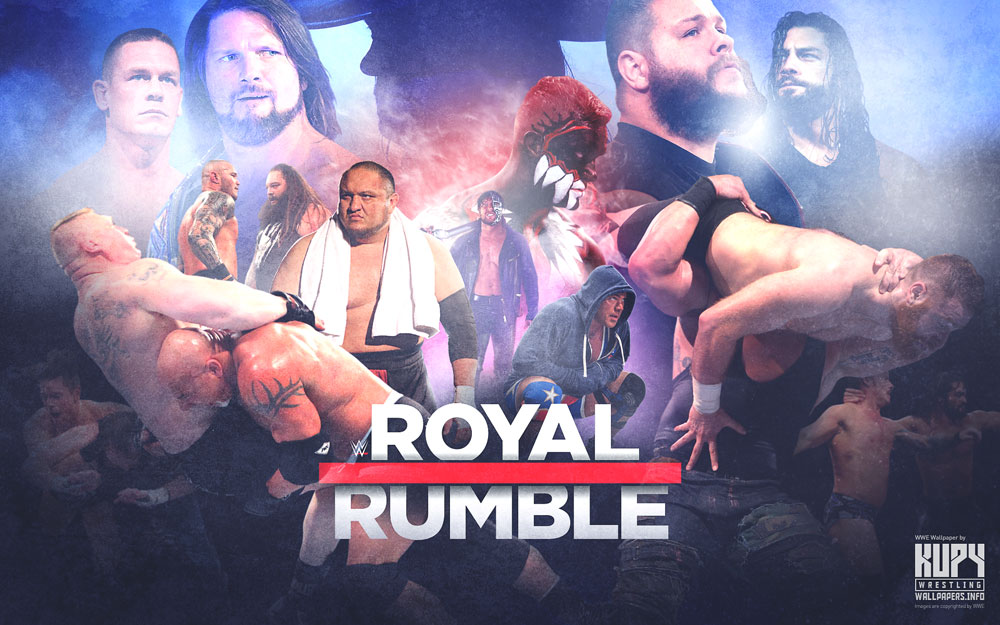 Royal Rumble 2017 wallpaper
1920×1200 | 1920×1080 | 1680×1050 | 1600×900 | 1440×900 | 1366×768 | 1280×1024 | 1280×800 | 1024×768 / iPad / Tablet | iOs / Android mobile wallpaper | PS Vita wallpaper | Facebook Timeline Cover
This year's Royal Rumble match is STACKED! Right now, there are 22 announced participants so there are a couple of slots left for both minor and major surprise appearances. Samoa Joe is 99% going to show up and has a HUGE chance of winning (due to rumors), while the likes of soon-to-be Hall of Famer Kurt Angle and the possibly returning Finn Balor are 50/50 at best. And there's Kenny Omega – though he isn't likely going to appear unless he's trolling everyone. Goldberg and Lesnar will probably eliminate one another. Triple H and Seth Rollins (he'll get in one way or another!) is going to ruin each other's chances for sure. The Undertaker has a pretty good chance of winning it too.
As for my pick, well, I have to give it to WWE for making this Rumble one of the most unpredictable yet. I believe he's not the favorite to win it all but I have to go with Chris Jericho. With the run he's having, Jericho SHOULD win the Royal Rumble this year and face Kevin Owens for the Universal Title at WrestleMania 33.
Get the 2017 WWE Royal Rumble wallpaper today and enjoy watching the PPV on Sunday!
Follow Kupy Wrestling Wallpapers on Instagram | Like Kupy Wrestling Wallpapers on Facebook
Disclaimer: Images belong to and are copyrighted to/by WWE. There is no copyright infringement intended.
Posted on January 27th, 2017 at 3:30 pm by Mr. Kupy
Posted in
AJ Styles
,
All Designs
,
Braun Strowman
,
Bray Wyatt
,
Brock Lesnar
,
Chris Jericho
,
Dean Ambrose
,
Finn Balor
,
Goldberg
,
I) Wrestling Wallpapers
,
John Cena
,
Kenny Omega
,
Kevin Owens
,
Kurt Angle
,
Randy Orton
,
Roman Reigns
,
Sami Zayn
,
Samoa Joe
,
Seth Rollins
,
The Miz
,
The Undertaker
,
WWE Royal Rumble
Tags:
AJ Styles
,
Braun Strowman
,
Bray Wyatt
,
Chris Jericho
,
Dean Ambrose
,
HD wallpaper
,
I) Wrestling Wallpapers
,
John Cena
,
Kenny Omega
,
Kevin Owens
,
Kurt Angle
,
mobile wallpaper
,
Randy Orton
,
Roman Reigns
,
Sami Zayn
,
Samoa Joe
,
Seth Rollins
,
The Miz
,
The Undertaker
,
wrestling
,
WWE
,
WWE Royal Rumble
,
WWE Wallpapers