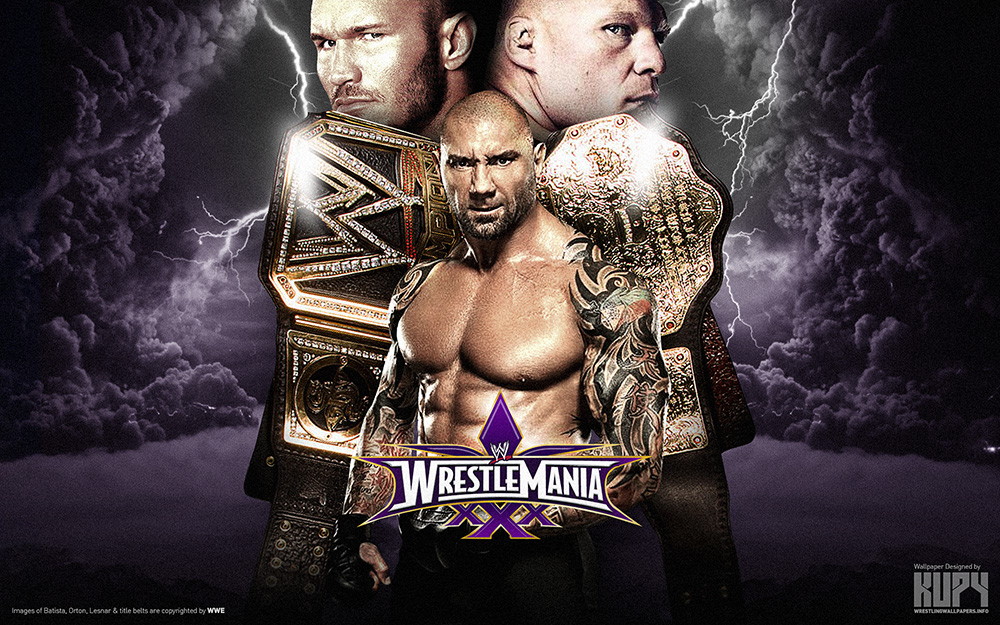 WWE Royal Rumble 2014 winner Batista wallpaper
1920×1200 | 1920×1080 | 1680×1050 | 1600×900 | 1440×900 | 1280×1024 | 1280×800 | 1024×768 / iPad / Tablet | PS Vita wallpaper | PSP wallpaper | Mobile / iPod Touch / iPhone wallpaper | iPhone 5 wallpaper | iPhone 5s wallpaper | Facebook Timeline Cover
(Considering the amount of hate reactions during and after Rumble match, please don't flame this post and don't think I wasn't disappointed about the outcome because I was. Thank you :P)
We're officially on the road to WrestleMania 30 now.
Batista has won the 2014 WWE Royal Rumble just awhile ago. He eliminated Roman Reigns (which did one heck of a showing on this night) to officially challenge for the WWE World Heavyweight Championship at WrestleMania 30. The question now is who will he be facing? We all know Brock Lesnar is in line for a title shot against Randy Orton probably on this year's Elimination Chamber PPV.. With Lesnar bringing the pain with his "Eat, Sleep, Conquer, Repeat" mantra, chances of Randy retaining the WWEWHC looks bleak. A Batista-Brock encounter at the Grandest Stage of Them All MIGHT be a better selling point now..especially DANIEL BRYAN didn't even qualify for a spot at the Rumble and be able to win it to finally get the chance to end Orton's reign and get his WrestleMania moment with thousands of YES chants. Ok I'm ranting here now.
I'd like to make one thing clear: I like Batista and I'm totally glad he's back in WWE now. It's just bad timing right now since Bryan is white hot and should be main eventing WrestleMania 30 no doubt. Hope you guys don't put the blame on Batista since WWE's making the decisions here. I think that's where we should point our fingers at.
Back to Batista, The Animal will be on an interesting journey for the next few months. His Guardians of the Galaxy movie is coming up soon so I won't be surprise if he ends up winning the belts at WM30. Anyway, Kupy Wrestling Wallpapers gives you its first 2014 wrestling wallpaper featuring the WWE Royal Rumble 2k14 winner, The Animal, Batista!
Like Kupy Wrestling Wallpapers on Facebook!
Disclaimer: Images of Batista, Orton, Lesnar & title belts belong to and are copyrighted to/by WWE. There is no copyright infringement intended.
Comments
comments
Posted on January 27th, 2014 at 5:42 am by Mr. Kupy
Posted in
All Designs
,
Batista
,
Brock Lesnar
,
I) Wrestling Wallpapers
,
Randy Orton
Tags:
Batista
,
Brock Lesnar
,
I) Wrestling Wallpapers
,
Randy Orton
,
WrestleMania 30
,
wrestling
,
WWE
,
WWE Wallpapers
One response to "NEW Royal Rumble Winner Batista wallpaper!"