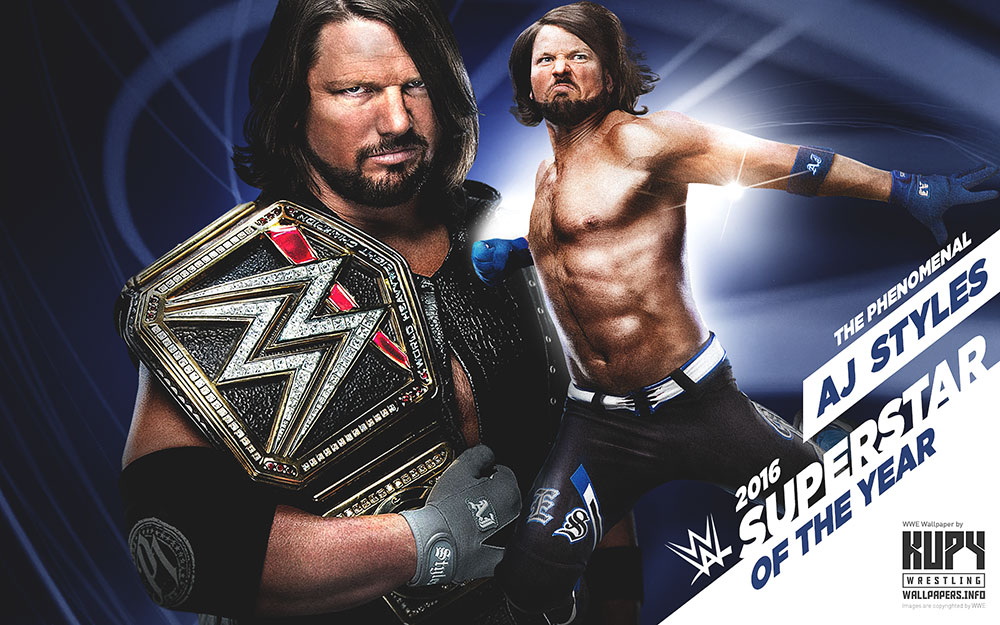 WWE 2016 Superstar of the Year AJ Styles wallpaper
1920×1200 | 1920×1080 | 1680×1050 | 1600×900 | 1440×900 | 1366×768 | 1280×1024 | 1280×800 | 1024×768 / iPad / Tablet | iOs / Android mobile wallpaper | PS Vita wallpaper | Facebook Timeline Cover
AJ Styles IS the 2016 WWE Superstar of the Year. Period.
What a phenomenal year (pun intended) this man had. Everyone knew he can go toe to toe with the best Superstars and man did he ever. Not only that, he won WWE World Championship in his rookie year in WWE and closed out 2016 by remaining the top guy in SmackDown. NO ONE comes close to what he achieved this year alone. He's a legitimate franchise player and hopefully, Vince takes advantage of that starting next year by making him the top face in all WWE. It'll also allow John Cena to finally do something different (*cough* heel *cough*).
Btw, I decided to retire the Year-End Champs wallpaper tradition and just honor AJ because of his outstanding first year in WWE. I think that's a fair trade, right? Get this phenomenal wallpaper featuring The Face That Runs The Place, WWE World Champion AJ Styles!
Follow Kupy Wrestling Wallpapers on Instagram | Like Kupy Wrestling Wallpapers on Facebook
Disclaimer: Images belong to and are copyrighted to/by WWE. There is no copyright infringement intended.
Comments
comments
Posted on December 29th, 2016 at 6:10 pm by Mr. Kupy
Posted in
AJ Styles
,
All Designs
,
I) Wrestling Wallpapers
Tags:
AJ Styles
,
Android wallpapers
,
HD wallpaper
,
I) Wrestling Wallpapers
,
iPhone wallpapers
,
mobile wallpaper
,
wrestling
,
WWE
,
WWE Wallpapers