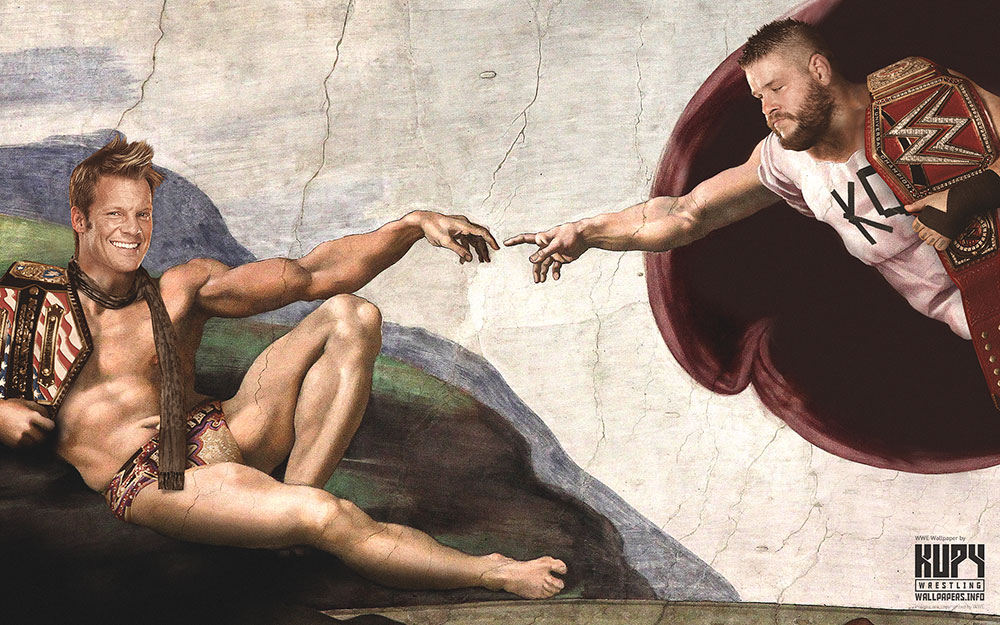 The Creation of Kevin wallpaper
1920×1200 | 1920×1080 | 1680×1050 | 1600×900 | 1440×900 | 1366×768 | 1280×1024 | 1280×800 | 1024×768 / iPad / Tablet | iOs / Android mobile wallpaper – Chris Jericho | iOs / Android mobile wallpaper – Kevin Owens | PS Vita wallpaper | Facebook Timeline Cover
The Creation of Kevin or perhaps The Destuction of Kevin and Chris?
Last Monday night the world saw a heartbreaking scene at the Festival of Friendship: Kevin Owens attacking his bestfriend Chris Jericho out of nowhere. We all know they'll be squaring off at WrestleMania 33, but WWE completely caught everyone off-guard. And again, after seeing the connection between the two meet a bitter end, regardless if you are a fan of both Owens and Jericho or not, you can't help but feel pity for how it all ended for these former bffs. Their acting was SUPERB and both guys pulled off a defining moment in their careers.
After seeing Y2J's The Creation of Kevin gift to Owens, I immediately went to WWEShop.com to see if they're releasing a shirt of that awesome edit. Sadly though, it looks like we're not getting it, especially now that Owens and Jericho are now in a hot feud. Don't worry though, Kupy Wrestling Wallpapers got your back! I tried my best to mimic the Creation of Kevin painting to the best of my abilities so I hope you guys like it. We all wanted to have a copy of this in some form, right?
Here's a wallpaper tribute to the former tandem of JeriKO, The Creation of Kevin wallpaper!
Follow Kupy Wrestling Wallpapers on Instagram | Like Kupy Wrestling Wallpapers on Facebook
Disclaimer: Images belong to and are copyrighted to/by WWE. There is no copyright infringement intended.
Comments
comments
Posted on February 17th, 2017 at 6:52 pm by Mr. Kupy
Posted in
All Designs
,
Chris Jericho
,
I) Wrestling Wallpapers
,
Kevin Owens
Tags:
Chris Jericho
,
HD wallpaper
,
I) Wrestling Wallpapers
,
Kevin Owens
,
mobile wallpaper
,
wrestling
,
WWE
,
WWE Wallpapers