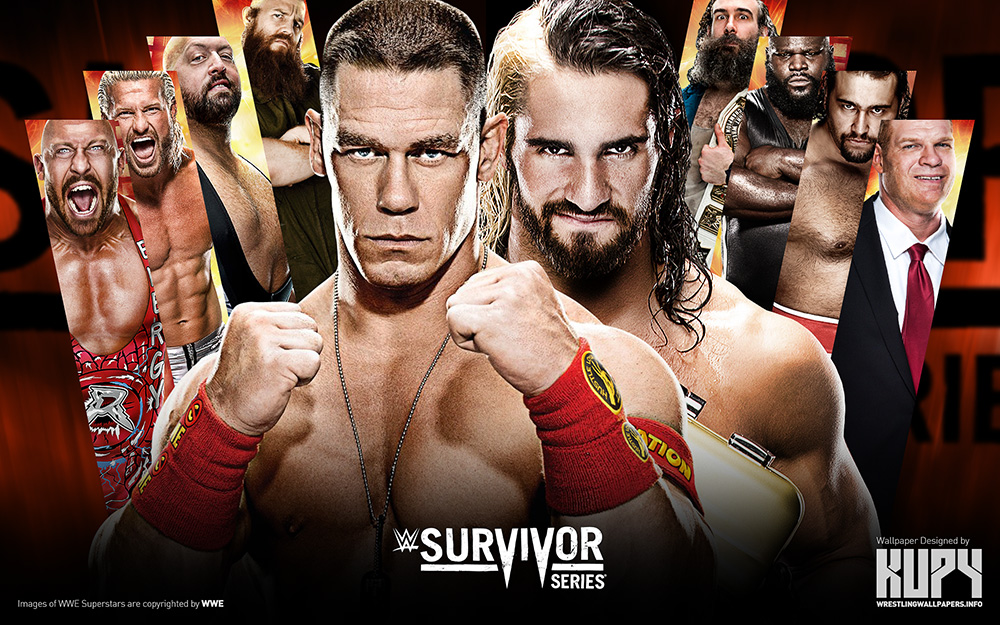 Survivor Series 2014 Team Authority vs. Team Cena wallpaper
1920×1200 | 1920×1080 | 1680×1050 | 1600×900 | 1440×900 | 1280×1024 | 1280×800 | 1024×768 / iPad / Tablet | PS Vita wallpaper | PSP wallpaper | iPhone 6 Plus wallpaper | iPhone 6 wallpaper | iPhone 5s wallpaper | iPhone 5 wallpaper | Facebook Timeline Cover
WWE's landscape is about to change in a few hours. Team Cena vs. Team Authority. So far the buildup for this match has been very good in my opinion. Since this will be a free PPV, expect WWE to pull off all the stops to convince WWE Network subscribers to sign up long-term. Someone from Bleacher Report said this is a one-match PPV and to a certain extent, it does look like that way.
John Cena, Big Show, Dolph Ziggler, Erick Rowan and Ryback for Team Cena while Seth Rollins, Kane, Mark Henry, Luke Harper and Rusev for the menacing Team Authority. Will Triple H and Stephanie McMahon continue their reign over the WWE Universe? Or will Team Cena make the WWE Authority-free starting this Monday?
Is Sting going to get involved? Or will it be Orton? There are just so many possibilities from this angle that's why I find it very compelling. Great job WWE!
Download this quick WWE wallpaper featuring what could possibly the match of 2014: Team Cena vs. Team Authority!
Like Kupy Wrestling Wallpapers on Facebook!
Disclaimer: Images of WWE Superstars belong to and are copyrighted to/by WWE. There is no copyright infringement intended.
Posted on November 23rd, 2014 at 3:11 pm by Mr. Kupy
Posted in
All Designs
,
Big Show
,
Dolph Ziggler
,
Erick Rowan
,
John Cena
,
Kane
,
Luke Harper
,
Mark Henry
,
Rusev
,
Ryback
,
Seth Rollins
,
The Authority
,
Wrestling Wallpapers
,
WWE Survivor Series
Tags:
Big Show
,
Dolph Ziggler
,
Erick Rowan
,
John Cena
,
Kane
,
Luke Harper
,
Mark Henry
,
Rusev
,
Ryback
,
Seth Rollins
,
Survivor Series
,
wrestling
,
Wrestling Wallpapers
,
WWE
,
WWE Wallpapers