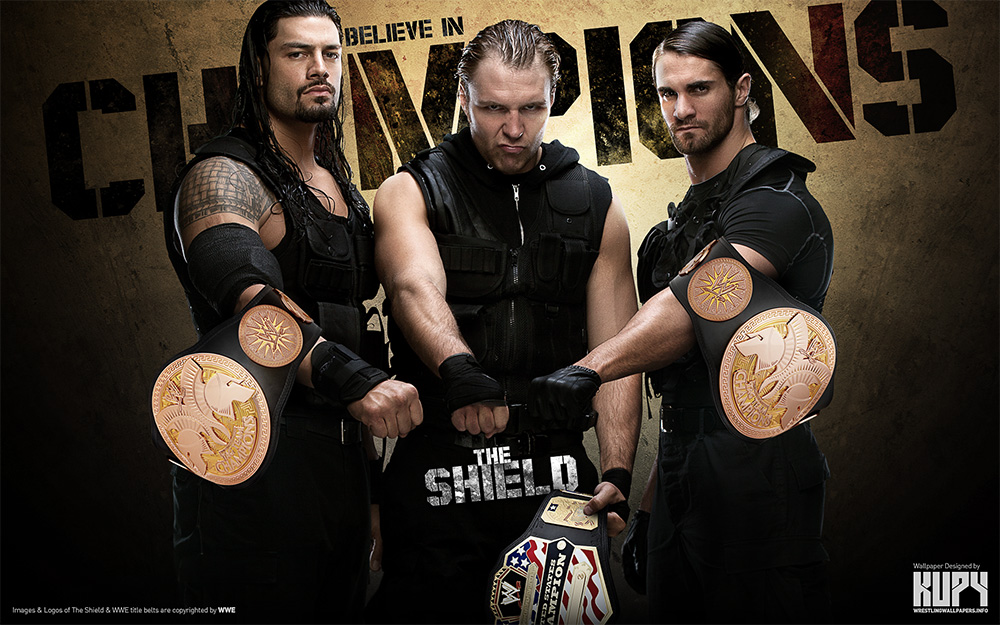 Believe in The Shield wallpaper
1920×1200 | 1920×1080 | 1680×1050 | 1600×900 | 1440×900 | 1280×1024 | 1280×800 | 1024×768 / iPad / Tablet | PS Vita wallpaper | PSP wallpaper | Mobile / iPod Touch / iPhone wallpaper | iPhone 5 wallpaper | 3D wallpaper | Facebook Timeline Cover
Despite taking a loss from John Cena on last week's RAW, The Shield walked into Extreme Rules and totally dominated the competition with Dean Ambrose winning the US Championship from Kofi Kingston and the team of Roman Reigns and Seth Rollins ending the Tag Team Championship reign of Team Hell No. They now hold 3 of the prestigious WWE championship titles. Who knows, they might still even gun for more. This pack of wolves are always hungry and will bring chaos to anyone they deem an injustice. Expect these young guns to keep these titles for a while.
Believe in these champions. Believe in The Shield!
500+ likes only for Kupy Wrestling Wallpapers' Facebook page so far?! That's unacceptable! Be generous by giving a couple of seconds to like the Facebook page

Disclaimer: Images & logos of The Shield & WWE title belts belong to and are copyrighted to/by WWE. There is no copyright infringement intended.

Posted on May 21st, 2013 at 4:07 pm by Mr. Kupy
Posted in
All Designs
,
Dean Ambrose
,
Roman Reigns
,
Seth Rollins
,
The Shield
,
Wrestling Wallpapers
Tags:
Dean Ambrose
,
Roman Reigns
,
Seth Rollins
,
The Shield
,
wrestling
,
Wrestling Wallpapers
,
WWE
,
WWE Wallpapers