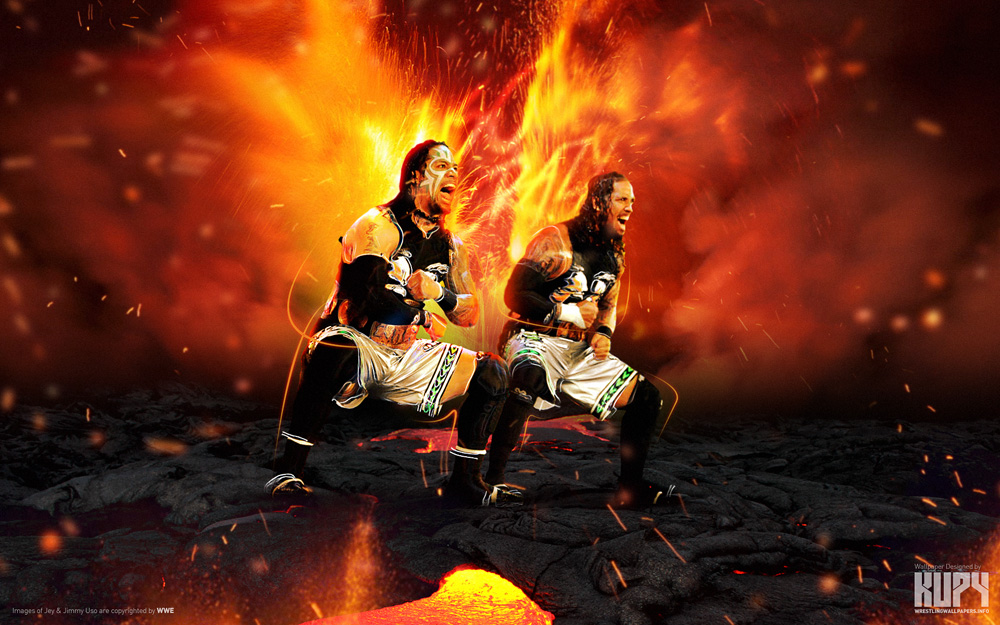 The Usos wallpaper
1920×1200 | 1920×1080 | 1680×1050 | 1600×900 | 1440×900 | 1280×1024 | 1280×800 | 1024×768 / iPad / Tablet | PS Vita wallpaper | PSP wallpaper | Mobile / iPod Touch / iPhone wallpaper | iPhone 5 wallpaper | iPhone 5s wallpaper | Facebook Timeline Cover
I don't think anyone would disagree with me on this: it's about damn time Kupy Wrestling Wallpapers serve an Usos wallpaper right? RIGHT!
Jimmy and Jey Uso are one of those tag teams who brought life back to WWE's tag team division. Sure it wasn't a jackpot in the beginning, but over time, this team managed to get over with the fans with their great, exciting and entertaining matches. One feud that solidified their tag team title run though is their feud with the Wyatts. Were you able to watch their epic 2 out of 3 falls match? I say that's a sure-fire tag team match of the year right there. If you haven't watched the match yet, PLEASE do yourself a favor and see for yourself what I'm talking about. It was truly awesome.
Can we hear louder Uce-O chants from now on? I won't be surprised if the WWE Universe do it. Get this hot Usos wallpaper now!
Like Kupy Wrestling Wallpapers on Facebook!
Disclaimer: Images of Jimmy & Jey Uso belong to and are copyrighted to/by WWE and 2K Games respectively. There is no copyright infringement intended.
Posted on July 24th, 2014 at 2:35 pm by Mr. Kupy
Posted in
All Designs
,
Jey Uso
,
Jimmy Uso
,
The Usos
,
Wrestling Wallpapers
Tags:
Jey Uso
,
Jimmy Uso
,
The Usos
,
wrestling
,
Wrestling Wallpapers
,
WWE
,
WWE Wallpapers