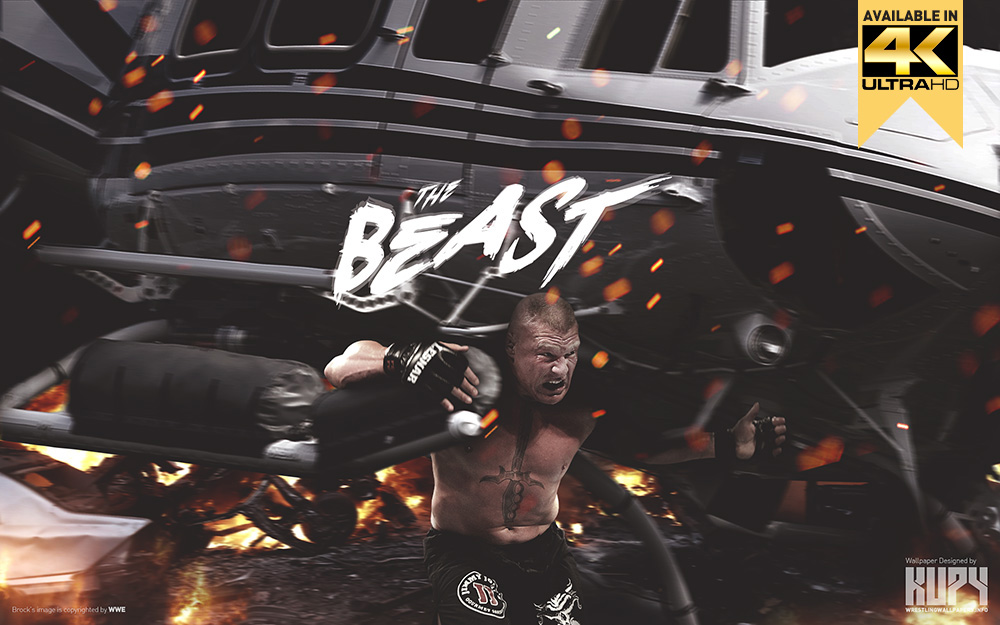 "The Beast" Brock Lesnar wallpaper
4K wallpaper | 1920×1200 | 1920×1080 | 1680×1050 | 1600×900 | 1440×900 | 1280×1024 | 1280×800 | 1024×768 / iPad / Tablet | PS Vita wallpaper | iPhone 6 Plus wallpaper | iPhone 6 wallpaper | iPhone 5s wallpaper | iPhone 5 wallpaper | Facebook Timeline Cover
Brock Lesnar has proven time and time again that he's up there with the greatest wrestlers of all time. The Royal Rumble Championship match was a thing of awesomeness and a match of the year candidate for sure. And who would forget the 1 in 21-1. The monster booking of The Beast has been masterful in every sense.
This wallpaper was inspired by Paul Heyman's recent promo about hyping the FastLane PPV and how it really doesn't matter who wins the number 1 contendership between Daniel Bryan and Roman Reigns because Brock Lesnar is not losing at WrestleMania 31 – that he'd even F5 a helicopter with DBry in it and send it straight to hell. Honestly, after the winning streak Lesnar's in right now, I wouldn't be surprised if it does happen.
Add this to your collection of WWE wallpapers now.
Like Kupy Wrestling Wallpapers on Facebook!
Disclaimer: Brock's image belong to and is copyrighted to/by WWE. There is no copyright infringement intended.