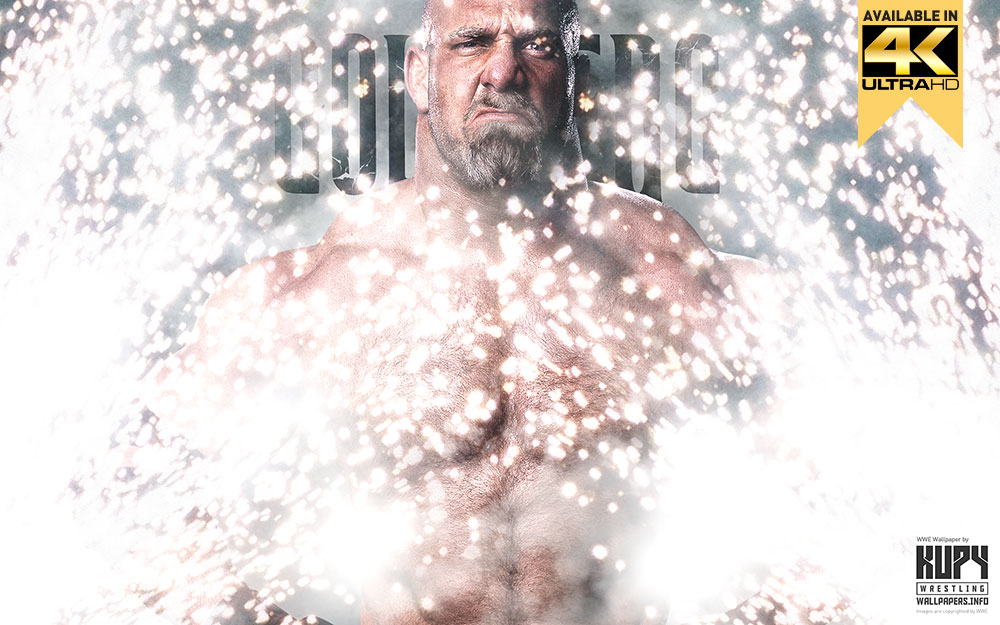 Bill Goldberg 2016 wallpaper
4K wallpaper | 2560×1600 | 2560 x1440 | 1920×1200 | 1920×1080 | 1680×1050 | 1600×900 | 1440×900 | 1366×768 | 1280×1024 | 1280×800 | 1024×768 / iPad / Tablet | iPhone 6S Plus / 6S / 5S / Android mobile wallpaper | PS Vita wallpaper | Facebook Timeline Cover
Goldberg vs. Lesnar II is happening.
The former WCW & WWE World Heavyweight Champion made his much-anticipated return last night on RAW and formally accepted Brock Lesnar's challenge. He said that The Beast will be his NEXT and LAST opponent, hinting that this one will probably his retirement match. I'm good with that since he has nothing left to prove though it'll be fun to see if WWE pulls a swerve and have someone interfere and deny Goldberg one last win. For now though, it looks like this will be a one-off and a way to formally say goodbye to wrestling fans, both new and old. After that bone-chilling and intense entrance last night, I'm pretty sure it made the old-time fans reminisce the good ol' days of him dominating everyone in his path and it surely made an impact on those youngsters who haven't seen him yet in the ring.
Goldberg-Lesnar 2 is probably going to be Survivor Series' main event so there's still a good amount of time to build the feud up. The history is there so it's almost impossible for WWE to screw this up. I truly hope they do this right. As for the winner, even though Goldberg's gonna retire after this, I don't see him winning just because he already won before. If I'm Brock Lesnar though, I won't have a problem having a 0-2 record against The Myth. One last Goldberg chant in winning fashion might be a better sendoff for the man who once dominated Monday nights.
Follow Kupy Wrestling Wallpapers on Instagram | Like Kupy Wrestling Wallpapers on Facebook
Disclaimer: Images belong to and are copyrighted to/by WWE. There is no copyright infringement intended.
Posted on October 19th, 2016 at 1:37 am by Mr. Kupy
Posted in
All Designs
,
Goldberg
,
I) Wrestling Wallpapers
Tags:
4k wallpaper
,
Bill Goldberg
,
Goldberg
,
HD wallpaper
,
I) Wrestling Wallpapers
,
mobile wallpaper
,
wrestling
,
WWE
,
WWE Wallpapers