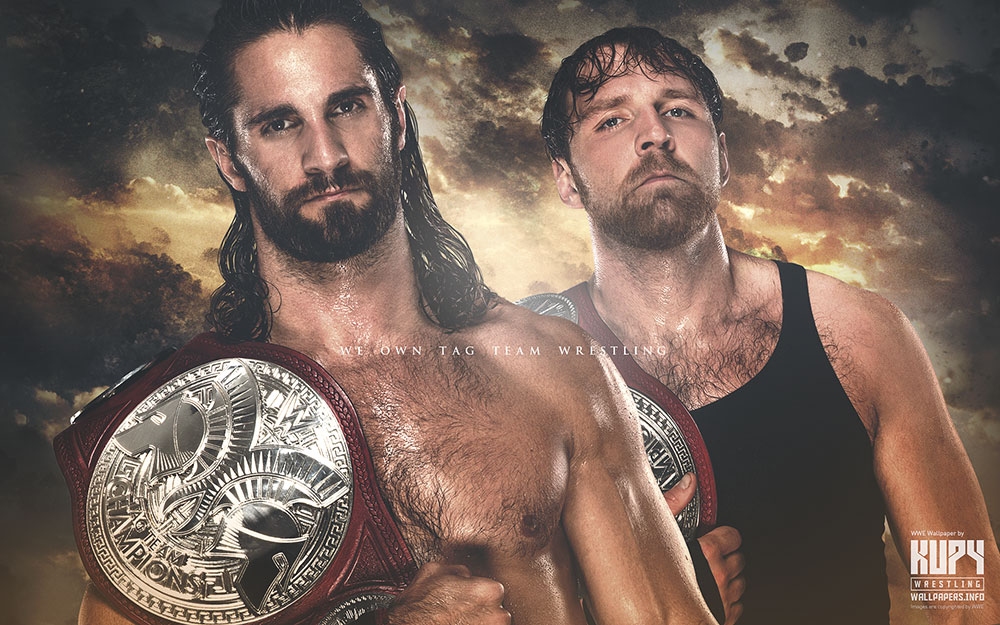 WWE RAW Tag Team Champions Dean Ambrose and Seth Rollins wallpaper
1920×1200 | 1920×1080 | 1680×1050 | 1600×900 | 1440×900 | 1366×768 | 1280×800 | 1024×768 / iPad / Tablet | iOs / Android mobile wallpaper | Facebook Timeline Cover
Former Shield brothers Dean Ambrose and Seth Rollins reunited for a common purpose and that's to be RAW Tag Team Champs. And they did just that. With no immediate and credible threat to their tag team titles, it's safe to say that these guys will be tag champs for quite some time. The feel-good reunion will come to an end at some point for sure as these 2 individuals have proven themselves to be better as singles competitors. Also, will Roman Reigns align himself with his former brothers as well? Whether you love/hate Roman or not, you have to admit that's an intriguing possibility.
Follow Kupy Wrestling Wallpapers on Instagram | Like Kupy Wrestling Wallpapers on Facebook
Disclaimer: Image(s) belong to and are copyrighted to/by WWE. There is no copyright infringement intended.
Comments
comments
Posted on September 4th, 2017 at 7:10 pm by Mr. Kupy
Posted in
All Designs
,
Dean Ambrose
,
I) Wrestling Wallpapers
,
Seth Rollins
Tags:
Dean Ambrose
,
HD wallpaper
,
I) Wrestling Wallpapers
,
mobile wallpaper
,
Seth Rollins
,
The Shield
,
wrestling
,
WWE
,
WWE Wallpapers