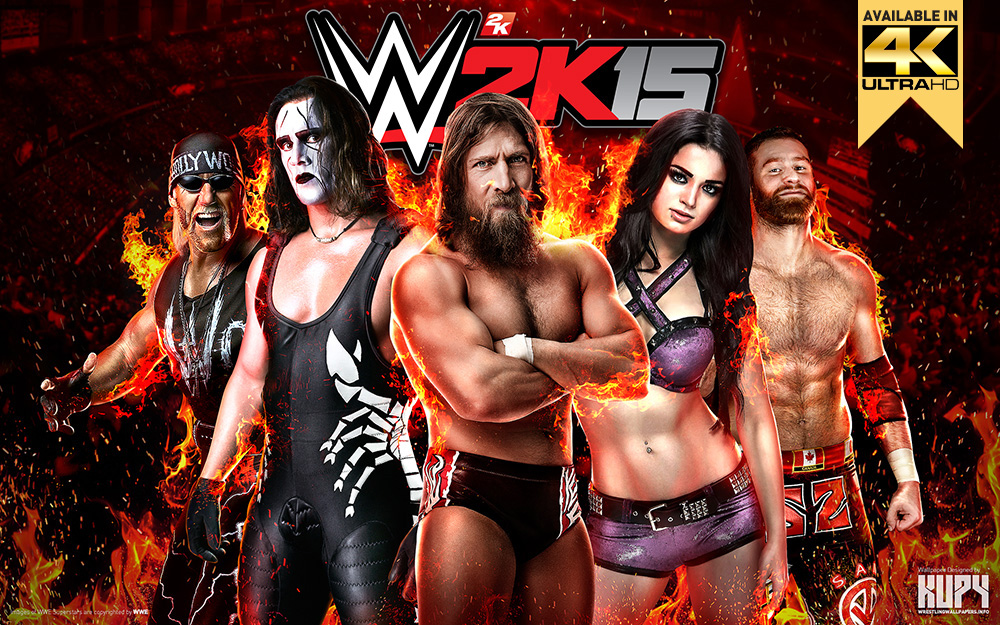 WWE 2K15 wallpaper
4K wallpaper | 1920×1200 | 1920×1080 | 1680×1050 | 1600×900 | 1440×900 | 1280×1024 | 1280×800 | 1024×768 / iPad / Tablet | PS Vita wallpaper | PSP wallpaper | iPhone 6 Plus wallpaper | iPhone 6 wallpaper | iPhone 5s wallpaper | iPhone 5 wallpaper | Facebook Timeline Cover
PS4 and Xbox One versions of WWE 2K15 are set to be released on November 18, 2014. That's just a day or two, depending on your location. Heard that the last-gen versions didn't do well so let's hope that these current-gen iterations will blow our minds away.
Today's wallpaper features some of the past, current and upcoming wrestlers that are included in the game. You have Hollywood Hogan and Sting for the legends, Sami Zayn for NXT, Paige for the WWE Divas division and of course, the hottest WWE Superstar, before he got injured, for the 1st half of 2014 – Daniel Bryan. The leading provider for your fix of WWE wallpapers just gave you an appetizer of WWE 2K15!
Like Kupy Wrestling Wallpapers on Facebook!
Disclaimer: Images of WWE Superstars belong to and are copyrighted to/by WWE. There is no copyright infringement intended.
Posted on November 17th, 2014 at 9:23 am by Mr. Kupy
Posted in
All Designs
,
Daniel Bryan
,
Hulk Hogan
,
I) Wrestling Wallpapers
,
IV) Videogame Wallpapers
,
NXT
,
Paige
,
Sami Zayn
,
Sting
,
WWE 2K15
Tags:
Daniel Bryan
,
Hulk Hogan
,
I) Wrestling Wallpapers
,
Paige
,
Sami Zayn
,
Sting
,
wrestling
,
WWE
,
WWE 2K15
,
WWE Divas
,
WWE Wallpapers