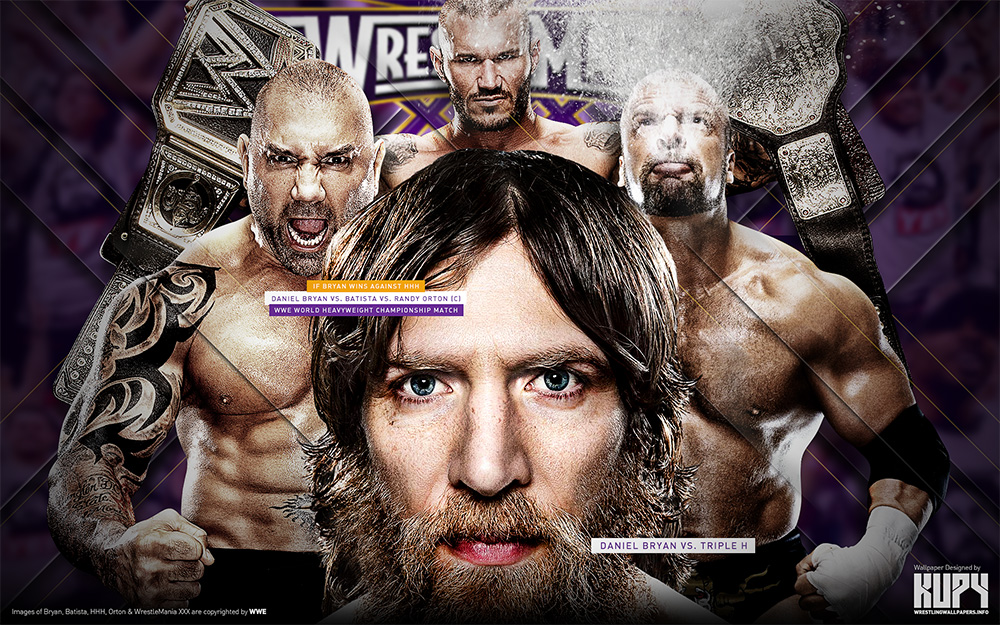 WrestleMania 30: Daniel Bryan vs. HHH (if Bryan wins, he joins Batista & Randy Orton in the WWE World Heavyweight Championship match) wallpaper
1920×1200 | 1920×1080 | 1680×1050 | 1600×900 | 1440×900 | 1280×1024 | 1280×800 | 1024×768 / iPad / Tablet | PS Vita wallpaper | PSP wallpaper | Mobile / iPod Touch / iPhone wallpaper | iPhone 5 wallpaper | iPhone 5s wallpaper | Facebook Timeline Cover
The YES Movement have taken WWE (and non-wrestling events) by storm. It also pushed Daniel Bryan into a very challenging but rewarding scenario at WrestleMania XXX.
After being held back by Triple H and the corporate machine for the past 6 months, Daniel Bryan is finally seeing the light at the end of the tunnel. He was able to lure The Game into fighting him at WM30 and of course not only that but he was able to make HHH agree to his creative stipulation: if he wins, he gets added to the main event match making it a three-way dance between him, Batista and the current WWE World Heavyweight Champion, Randy Orton. It's not an easy road considering he needs to win first against one of the all-time greats in WrestleMania history before he gets the opportunity to win the prestigious belts and become the face of the WWE. However, as we've seen before from this future Hall of Famer, Daniel Bryan can work multiple matches. The dude is a total workhorse. He'd be making a historical feat when he holds the WWE World Heavyweight Championship up in the air, going through 3 household names in professional wrestling (and former members of Evolution too right?).
Will the much-awaited payoff happen at WrestleMania XXX for the leader of the YES Movement? The fans are sick and tired of the BS Daniel Bryan has gone through. WM30 IS THE 'RIGHTEST' TIME FOR HIM TO BE CHAMP ONCE AGAIN! Now with that said, Kupy Wrestling Wallpapers brings to you the this latest WrestleMania 30 wallpaper featuring Daniel Bryan and his road to WrestleMania against Triple H, Batista and Randy Orton.
Please like Kupy Wrestling Wallpapers on Facebook!
Disclaimer: Images of Daniel Bryan, Triple H, Batista, Randy Orton & WrestleMania 30 belong to and are copyrighted to/by WWE. There is no copyright infringement intended.
Posted on March 14th, 2014 at 7:10 pm by Mr. Kupy
Posted in
All Designs
,
Batista
,
Daniel Bryan
,
I) Wrestling Wallpapers
,
Randy Orton
,
Triple H
,
WrestleMania 30
Tags:
Batista
,
Daniel Bryan
,
I) Wrestling Wallpapers
,
Randy Orton
,
Triple H
,
WrestleMania 30
,
WrestleMania XXX
,
wrestling
,
WWE
,
WWE Wallpapers