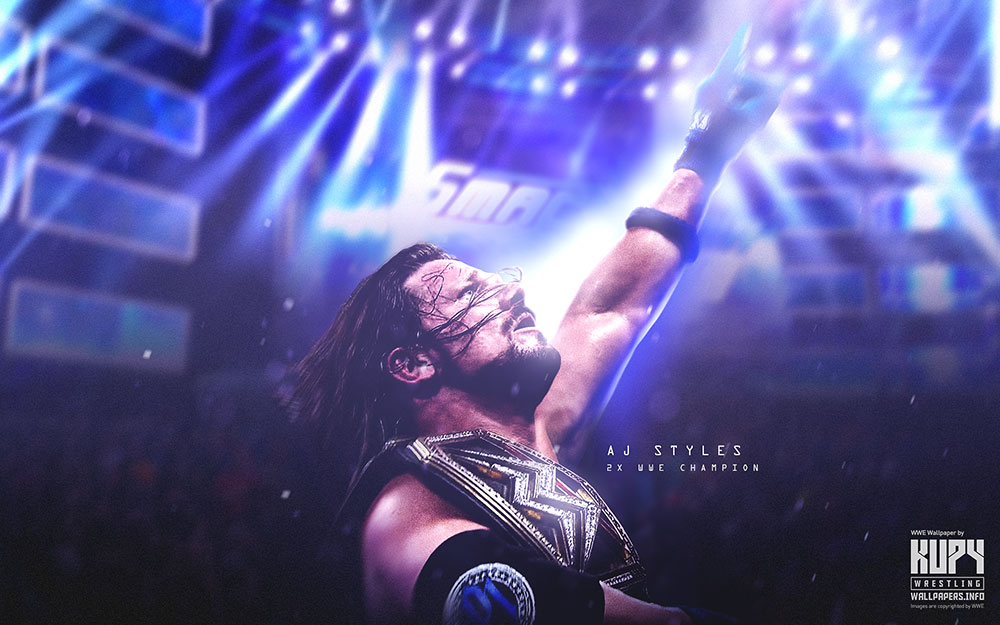 2x WWE Champion AJ Styles wallpaper
1920×1200 | 1920×1080 | 1680×1050 | 1600×900 | 1440×900 | 1366×768 | 1280×800 | 1024×768 / iPad / Tablet | iOs / Android mobile wallpaper | Facebook Timeline Cover
After having one of the most lackluster and boring WWE Championship reigns in recent history, Jinder Mahal doesn't deserve to face Brock Lesnar at Survivor Series. The Modern Day Maharaja vs. The Beast has no appeal to me, at all. Sorry Jinder, even though you were passable as a heel champion, you just have no business right now being in the ring with Brock. AJ Styles, on the other hand, does. Carrying SmackDown Live on a nightly basis, The Phenomenal One deserves his rightful place at the top of the SmackDown chain. When he says SmackDown Live is the house that he built, he's dead right. Thus, with Survivor Series shaping up to be a big, solid PPV, with the announcement of Shield vs. New Day being added to the card PLUS Triple H joining the Men's RAW team and replacing Jason Jordan in the process, it's only rightfully so that AJ Styles face Brock Lesnar in the main event. Whatever the outcome is, you can be sure that AJ Styles will give us a show like he can only provide!
Follow Kupy Wrestling Wallpapers on Instagram | Like Kupy Wrestling Wallpapers on Facebook
Disclaimer: Image(s) belong to and are copyrighted to/by WWE. There is no copyright infringement intended.