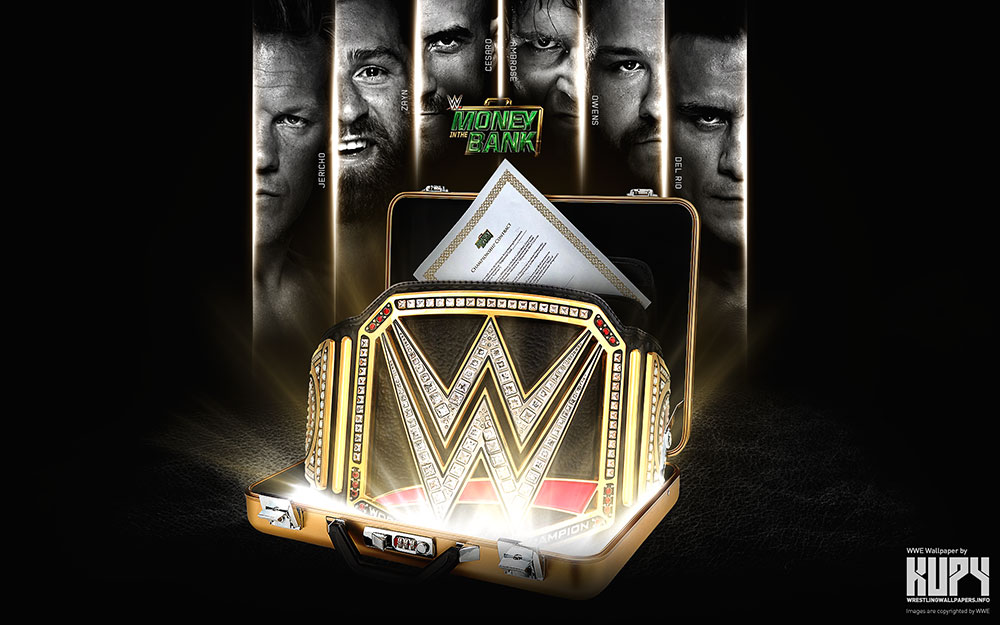 WWE Money in the Bank 2016 wallpaper
1920×1200 | 1920×1080 | 1680×1050 | 1600×900 | 1440×900 | 1366×768 | 1280×1024 | 1280×800 | 1024×768 / iPad / Tablet | iPhone 6S Plus / 6S / 5S / Android mobile wallpaper | PS Vita wallpaper | Facebook Timeline Cover
Six WWE Superstars will wage war against each other on June 19 for the right to get this year's Money in the Bank briefcase. Dean Ambrose, Alberto Del Rio, Sami Zayn, Chris Jericho, Cesaro and Kevin Owens (which I'm picking to win) will do anything just to have the opportunity to cash in anytime until next year and become the WWE World Heavyweight Championship. You can make a legit case for each of these competitors so it's really tough to predict who's gonna win it this time around and that's a very good thing. Will WWE finally put the main event push on Cesaro's shoulders? Or should they go with someone like Alberto Del Rio who's going to be booed either way against Roman Reigns? Or will this be an underdog story of the year for Sami Zayn? We're going to find out soon.
Kupy Wrestling Wallpapers brings to you this latest MITB WWE wallpaper featuring the 6 competitors on the Money in the Bank Ladder Match! Get it now!
Follow Kupy Wrestling Wallpapers on Instagram | Like Kupy Wrestling Wallpapers on Facebook
Disclaimer: Images belong to and are copyrighted to/by WWE. There is no copyright infringement intended.
Posted on June 10th, 2016 at 2:03 pm by Mr. Kupy
Posted in
Alberto Del Rio
,
All Designs
,
Cesaro
,
Chris Jericho
,
Dean Ambrose
,
I) Wrestling Wallpapers
,
Kevin Owens
,
Sami Zayn
,
WWE Money in the Bank
Tags:
Alberto Del Rio
,
Antonio Cesaro
,
Cesaro
,
Chris Jericho
,
Dean Ambrose
,
HD wallpaper
,
I) Wrestling Wallpapers
,
Kevin Owens
,
mobile wallpaper
,
Sami Zayn
,
wrestling
,
WWE
,
WWE Money in the Bank
,
WWE Wallpapers